Digital marketers need to juggle several tasks in order to deliver positive results to the business. From social media marketing to email marketing to content marketing and search engine optimization, a digital marketer is responsible for the many elements of a business' online marketing campaign.
In order to perform digital marketing efforts effectively and with ease, you need to have the right tools. In this article, we will talk about several indispensable digital marketing tips and tools that can help you become a true rock star in this field.
Google AdWords
No matter what the size of the business is, Google AdWords is a commonly utilized tool by digital marketers. If used properly, this pay per click or PPC tool can give businesses a boost in terms of their rank in search.
For those who haven't used the tool yet, Google AdWords works this way:
You create online advertisements which target certain keywords (obviously, the keywords that you use must be relevant to your business), and when users search using your keywords, your advertisements will appear either above or on the right side of organic search results. The great thing about this form of marketing is that you will only be charged when a user clicks on your advertisement. However, it is important to note that the cost per click varies depending on how competitive the keyword you're using it. Ideally, you should choose a relevant keyword with low competition and high search volume.
Google Analytics
Google Analytics—another extremely useful tool for the search engine giant—monitors website traffic or the number of people entering a particular website, as well as the sources of this traffic. The best thing about gaining access to a visual representation of your site's traffic in the form of a graph is that you will be able to see and track more easily when your traffic increases or decreases. More importantly, because it helps you understand which actions caused this movement in website traffic, you will be able to modify your existing digital marketing strategy for the better.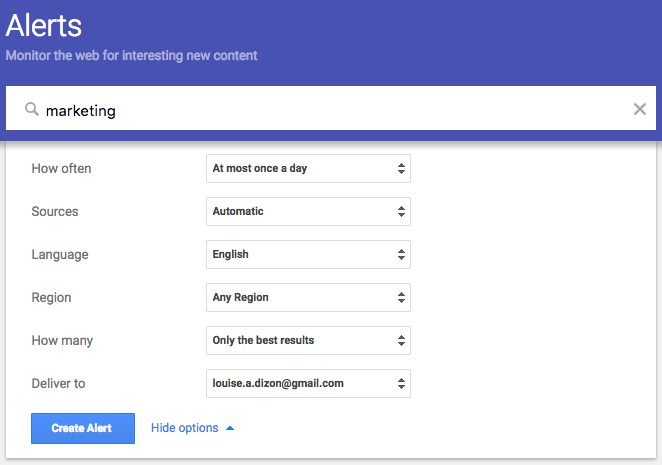 Google Alerts
This tool by Google will let you know when someone mentions your brand, or when your rivals are mentioned. Basically, this alerts you when people are talking about your business online.
Google Insights
This digital marketing tips and tool is often used by digital marketers to gain insight into the popularity of a particular keyword. Through Google Insights, you will learn if the keywords that you are using are becoming more or less popular. Furthermore, you can also filter the search based on location or region and the time of year.
Hootsuite
Digital marketing tips entail managing several social media accounts. Good thing, there is a highly beneficial tool that helps you manage multiple accounts SIMULTANEOUSLY. Hootsuite offers various features that let you schedule and automate your social media posts ahead of time, create social media campaigns, as well as analyze aspects such as where the traffic is coming from and what kind of content performs well on various platforms.
This automation tool is extremely useful if you're always busy or will be away on vacation, and you don't have the time to regularly update the official social media accounts of your business. If you want to increase your posts' exposure, you can also activate advance scheduling time. This feature will allow you to schedule your posts to be published when the engagement is high.
MailChimp
MailChimp is an email management tool that you can use to make newsletters and other types of emails that you can send to your subscribers or followers. By regularly sending email newsletters, your clients or potential clients will be updated about the company and your products or services. Moreover, you can also boost your branding and credibility by sending informative newsletters that will add value to your customers and prospects. Below are some of the features of MailChimp:
Designer email templates that you can use to enhance appearance and attract clients
Email marketing analytics
Social media sharing options
Customized contact form
Piktochart for Digital Marketing tips
Aside from articles and videos, infographics are a type of content that can inform and engage your target audience. If this is part of your content marketing campaigns (if not, well you should seriously consider including it), the Piktochart is an awesome tool that can help you create visually appealing infographics.
By using this easy-to-use app that has tons of features, you will surely be able to accomplish this task efficiently even though you are not a graphic designer. By using Piktochart, you can save the infographics that you made to your account and edit them anytime you want.
Open Site Explorer
This is a wonderful link analysis tool that you can use to learn about a particular website's domain and Page authority, check competitors of that site, and gain information on social signals and volume of domains that are linking to that specific website you are analyzing.
Basically, Open Site Explorer can help you assess the website's strengths and weaknesses in terms of links, assist you in conducting competitive analysis and determine link building opportunities. Through this SEO tool, you will know which sites link to your rivals and most importantly, identify which ones could also link to the website you're marketing. Once you've created a list of these relevant sites, reach out to the webmasters of each of these and try to get them to also link to your website.
Final Thoughts
Consider this article as your marketing tool crib sheet. However, you should note that the ones included here are just some of the most effective digital marketing tools that we love using. Feel free to experiment with others that you may find on the internet.
Always remember that only half of the battle is won when you gain access and learn how to use these tools. To give your marketing initiatives a boost, you need to have the right skills and knowledge to be able to come up with an overall digital marketing strategy that actually works.
If you're busy running the core aspects of your business and you don't have the time to learn the ins and outs of digital marketing, the most viable option is to hire a skilled talent who can perform these tasks for you. At Infinit3solutions, our experienced digital marketing professionals are not only proficient in using tools but are also competent enough to devise and implement a strategy tailored specifically to your business needs.
Reach out to us today and allow our digital marketing team to figure out what will work best for your business.