In business, regardless of its size and structure, needs to exude credibility and professionalism in all aspects. As an entrepreneur, you need to strive for this image as you built your client list and reputation. It can be challenging, especially during the initial stages as you built your portfolio, the pressure on scoring the first deal, and making every expense count can be a ticking bomb in terms to your perseverance and sanity.
In our hopes to achieve all those things, we tend to make grave mistakes such as cost-cutting on matters that count such as business permits and marketing materials, low pricing of our goods and services, and probably saying yes to all the unusual request of our client, in anticipation that they will recommend us to future clients. All these mistakes may seem to be harmless, but as you move up, casting out negative descriptions associated with your business name takes a lot longer to correct, such as being known as "cheap", "shady", or even the dreaded "unprofessional".
We understand the struggles of starting a new venture, but, as the old saying goes, when you start something, you better start with the right foot forward. So, how can you make your business look professional, inside and out? Here are the 5 tips you need to remember to start a professional business in the Philippines this 2019.
Choose your location wisely
This is important especially for those who are planning to have a brick and mortar establishment. It is essential that the place is easily accessible by your potential customers. For those who are planning to set up their business remotely, a virtual office address is a good alternative rather than registering your business to your home address. The advantage of course, aside from the fact that it always good to have your work and home address separately, is that virtual office address gives a more professional impression since it is usually located in key business districts in the Philippines. Our final tip when choosing a location, think of the long term. Do you want your business to stay in this address in 6 months or in 6 years? Because, changing the business address in the future takes a lot of time, effort and energy.
Make sure that all government permits are secured
You can't start operating without securing all the necessary permits or documents. Decide first what type of business entity you prefer, is it Sole proprietor, Partnership, or Corporation? Then register to DTI (for Sole and Partnership), and to SEC or Security and Exchange Commission (if choose to register a Corporation).
After acquiring the Certificate, the next step is getting a Certificate from Local Government Units (LGU). Get the Barangay Clearance from barangay where your business is registered. Once you have the barangay clearance, time to get the Mayor's Business Permit. After that, you can now register at the Bureau of Internal Revenue (BIR). After obtaining the Certificate of Registration (COR) from BIR, you are now complete with all the permits.
But how about your staff? It is government mandated to register your employees to 3 agencies, the Social Security System (SSS), Home Development Mutual Fund (commonly known as Pag -Ibig) and Philhealth. Now you are ready to operate.
Set up your branding
Branding is crucial in business, both online and offline. You have to be consistent with your color scheme, logo, fonts and the overall theme of your business online, and in social media. To get started, here is a quick checklist of what you need:
Deciding on a logo will set the tone of your business approach. Besides, this will be your business ID, it has to represent you with just a glimpse!
A business card is how you will close an elevator pitch "like a boss". It is a golden rule not only for entrepreneurs but to all professionals to always carry a few business cards for you have to be always ready to give out your contact details, in a professional manner, when a good opportunity or a business contact presents itself.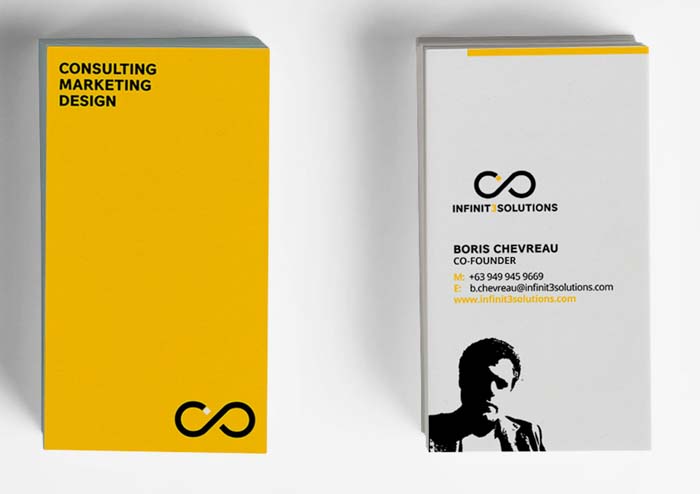 it's more professional and an affordable marketing option to set up a separate business page where the only content is your products or services. Remember to be consistent with your branding. You don't have to be on all social media platforms, just choose where your target market is. 
Even if we live in a world wherein information is readily accessible via the internet, it is still important to have a few old school marketing materials readily available in your office to give out when you have some walk-in clients and when you conduct a presentation outside of your office. Again, your brand must carry the same tone or appearance in both online and offline. Your customer should not be confused when they see your business card and your brochure for example. They should be seeing your brand image in everything! 
Never use a free domain. When people or potential client heard your business for the first time, what they going to do first is to check you out online. As the adage goes, first impression last. It may be true or not but it doesn't hurt to invest in your website. If you don't know anything about web design or website creation you can always hire a professional to do it. They will not just build your website but also helps you maintain it. Website maintenance is essential to increase website traffic. When choosing a domain and adding contents in your website, make sure that it will reflect your brand and it also applies Search Engine Optimization criteria. 
Take Better Photos

If your business is offering a product, you might want to invest time in taking good photos to share on your website and social media pages. Impress your target customer with good quality photos where they can virtually appreciate your product. If you don't have a good camera, your phone will do (for the meantime). Most of the mobile phones nowadays have a good quality camera that you can take advantage of. Just use a killer background or be creative with your shots. Lastly, knowing some basic photo editing skills won't hurt to further enhance your photos. However, if you are in the service industry especially in hospitality, it is always better to hire a professional photographer. Remember, you are asking people to take time and visit your establishment, you better make those photos inviting or else, it will be a wasted opportunity. 
Use a Business Email
Just like having a separate social media page, creating a professional email is also crucial. You don't want your customer to think that you're a scam. Using your personal email might be convenient but it's better to set up an email that uses your business name, for example, info@infinit3solutions.com or j.castro@infinit3solutions.com . Once you have the business email, use this email for your email newsletter, subscribers, and other business email related.
Final Thoughts:
These basic steps will not only make your business look professional but will boost your sales also. To simplify it, put yourself in your customer's shoes. If you were them, would you transact or work with unprofessional business whom you can't even find any information online?
As we mentioned before, you don't have to be an expert in any of the abovementioned field. Remember, you can always hire a rock star who is expert in doing all of that or whatever you need. Reach out to Infinit3Solutions and let our professional consultants and designers create something that works for your business.
What makes our service unique is that we take our time to study your business before creating something for you. This approach helps us conceptualize what will accurately represent your core brand. We don't only create something that looks easy on the eyes; we develop a design that helps your target market know your business more.
Contact us today and let us talk about your project!